I could say life is hard, but that would be a lazy description. Life is so much more than hard. It's good, and everything in between. I like to say that life is life. It may seem overly simplistic, but it also packs some weight. The beautiful thing about life is that, every new day that we are afforded to live, we can embark on a completely different journey than the day before. That journey can be relatively better, worse, or something indescribably different. Things switch and change up in a way that they only can with life.
Sometimes, life feels like London: foggy. Without any real clue of the next direction or destination. That's what life is for me right now. You know me, I'm not a gumdrop button blogger. My audience is real, my following is real, so it's only right that I keep it real. Two months ago, my life was on a real high. I was returning from 10 weeks in San Fransisco, preparing to walk across the graduation stage of my dream school. I knew that I was making all of my loved ones proud.
Today? I can't really tell you what next week will look like for me, let alone the next month. My life has huge potential to look completely different at this point of my journey. And as a visionary, get $h!+ done type of person, navigating in fog is not my favorite thing at all. It also doesn't help when the questions keep rolling in and everyone has their own idea of what they think I should do. If I'm keepin' it 100 with y'all, life has been stressful. I'm known as (and take much pride in) being the type of person to turn lemons into lemonade. It's just what I do! But even my lemonade-making self can get discouraged.
---
As I was recently going through my photos for a project, I came across a photo of a speech that I wrote when I was in 5th grade. It was my campaign speech for class president.
"Good Morning, I want to be your class president" the speech begins, in an ugly font. It continues with "I know that I can lead this class to victory if I get elected." What does 'victory' even look like for a class of 5th graders in an under-resourced school in Detroit? Apparently, I knew. "I will be a voice for all fifth graders and rally for things that we think are important to us. I will also make sure that every field trip we have will be fun, but educational."
Kids really do say the darndest things, it's true. But beyond the various fonts, shallow fifth-grade goals, and heavy usage of caps lock, this speech really struck a nerve with me. I didn't go to the fanciest elementary school…not even close. Our "playground" was an empty lot, our "gymnasium" was an oversized classroom, and our "auditorium" was just us sitting on the floor of the main hallway. And yet? Fifth grade Sierra put so much effort into campaigning, and winning that election. Fifth grade Sierra truly believed she had what it took to make a tangible change for her peers. Fifth grade Sierra was up against 5 other students, not even the most popular among them, but still put in every ounce of effort there was to give. And you know what? Fifth grade Sierra won that election.
Because that's who I am. And sometimes, it takes a blast from the past to bring us back to our senses.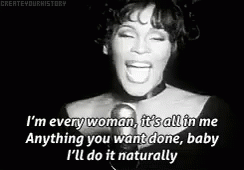 No, I don't know what the next week, month, or year looks like for me. No, I don't have a definitive answer for when I'm asked "what's next?" No, it all isn't making sense to me. But a huge part of trusting the process is not having the answers, but having the faith to make up for it. It means believing in yourself and knowing that you've 1) got what it takes, and 2) the receipts for anyone who may need reminding.
I don't have all the answers, but I've still got vision. I'm still that same fifth grade Sierra who turns lemons into lemonade. People may not know my next move, but I'm not living anyone's life but my own. I can't worry about fulfilling anyone's dreams but my own. Because I believe everyone, at the very least, deserves that. So watch me walk down this foggy road like my name is Naomi Campbell. And watch me strategically use this fog to make my grand entrance into the next chapter of life.
Because that's what I do – whether in 2017 or 2006. I'm just gonna do it, even if it changes every now and then. And I encourage you to do it too. Do it while throwing glitter, strutting your stuff, and with the smile of a champion. You owe yourself that much.
XoXo
-Si